The Sun Kings: The Cult's 'Under The Midnight Sun' album review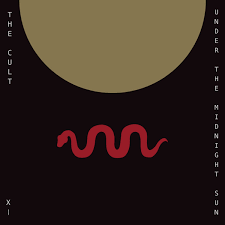 The Cult, a band that was different from the rest of the pack when they arrived on the music scene with the release of 1984's "Dreamtime." Just like their debut record 38 years ago, The Cult still shows fans that they aren't afraid to be different.
On Oct. 7, the band released a record that is shorter than most. The eight-song record clocks in at 35 minutes and contains a vibe that is different than their last record "Hidden City" and is completely on the other side of the spectrum when compared to 1989's smash hit record, "Sonic Temple."
Just because a record or a piece of work is different, doesn't mean that the work is bad or no good. Everyone is entitled to their own thoughts and I certainly have mine which might or might not be along the same lines as yours. 
The record kicks off with "Mirror" and it is apparent from the beginning that this wasn't going to be a hard rock, in-your-face loud record, it definitely gives off a '90s style vibe, I'm not really sure, but it's not a record that would be compared with other hard rock records of the year. In fact, the record reminds me of something that Collective Soul would do or any other band from that era.
If I were to pick any song off the record and say that it was my favorite, it would be track two titled, "A Cut Inside." Guitarist Billy Duffy has a cool riff that is reinforced by John Tempesta on drums. "A Cut Inside," is one of the harder rock songs on the record which is probably why I enjoyed it more than the other batch of songs on the record.
A song that's very close to my favorite song is "Vendetta X" which comes in as track three on the record. I'm not sure if it's the lyrics like "suckin' on a dirty blade, fightin' over love and hate," which draws very strong images in my head, or if it's the funky groove that the rest of the band is in during this song. This song as well as  "A Cut Inside," are the two out of the eight songs that stood out to me the most and the two that I enjoyed the most.
The rest of the record is okay. Whether it is "Outer Heaven," or the single "Impermanence," nothing to  me was "oh my god, this rocks." It was more along the lines of "this is pretty cool, it's different but cool." I'm also basing this on the sole purpose that I listen to and think of The Cult as a hard rock group that is always bringing their best.
I know that I haven't gone into as much detail as I normally would but that's because I just wasn't a fan of this record.
That doesn't mean that I'm no longer a fan of the band, because I still love The Cult. I had the opportunity to see them at the Wellmont Theater in Montclair, New Jersey. They were amazing and Tempesta gave me his drumstick which made the show even more memorable.
"We don't do a 'concert.' We don't do a 'performance' — we create an environment," lead singer Ian Astbury said while talking to littlevillagemag.com. "We're creating cathedrals, creating spaces for expression and connection to a community."
The most memorable thing for me off this record is the title. Under the midnight sun is such a cool name for a record. A lot of the time if the name is crappy then people can't really look past that, not this time, it's a perfect name for a Cult record.
The name came to Astbury due to performing at the Provinssirock Festival in Finland which is close to Article Circle and the sun does not go past the horizon line during parts of the year.
"You have this strange situation where it still feels like daytime during high summer," Astbury said while talking to littlevillagemag.com. "The whole town had been taken over by mostly young people who were attending Provinssirock, and everybody was dressed in a way that expressed a real sense of individualism, connectedness and intimacy."
To sum up, the record has a perfect name yet some of the material on the record I am not a fan of. That's okay because music is subjective and everyone is entitled to their opinion.
 As always, here are The Singer's Thoughts:
Despite the record not being the best for the band, the next step would be to go back to their hard rock roots after this experimental album and deliver an in-your-face record next.

Ian Astbury and Billy Duffy have real character to try something new and go off the beaten path a bit and make a record full of material that normally wouldn't be on your records.

Just because a band makes a record that you don't like doesn't mean that that is a new direction for a band, it's just an experiment. Many bands fail at these types of records like Kiss and 1981's "Music from 'The Elder,'" sometimes it works for bands like The Who and their 1973 record, "Quadrophenia." Bands like to do something new and that's what The Cult did, no hate, just respect.
Overall Grade: 5/10