Mama (Carol), He's Coming Home: Comedian John Franklin ('19, MS '20) of Netflix's 'The Circle' Performs on Campus
Picture this: you're relaxing in a seat in Buckman Theater after a long day of class, you look up from your phone, and the guy who pretended to be his mom on that show you binge-watched over the summer is on stage talking about a night at Toad's Place. No, your brain isn't merging Netflix with reality, that really is John Franklin.
On Sept. 1, Quinnipiac University's Student Programming Board hosted "Comedy Tribal with John Franklin" at Buckman Theater. This event, along with a "Tie Dye Your Way to Immunity," "Trivia Tuesday: Brain vs. Brawn," "Survivor Field Day," "Drop Your Buffs Bingo," and "Create Your Own Survival Buddy" made up SPB's 2022 Welcome Week, themed around the reality competition TV show "Survivor."
WQAQ's night of laughs began early with an exclusive interview with Franklin on the airwaves, hosted by our general manager Carly Mac Manus and SPB's traditions and community chair Paige Pezzella. 
While on the air, the QU alum and star of The Circle on Netflix talked about his fondest memories of the university (both partying at Toad's Place and working for student media organizations), how he made his way to reality TV, and his advice for current Bobcats. After a quick opening set by former Saturday Night Live cast member Sharon Simon, it was time for John to take the stage.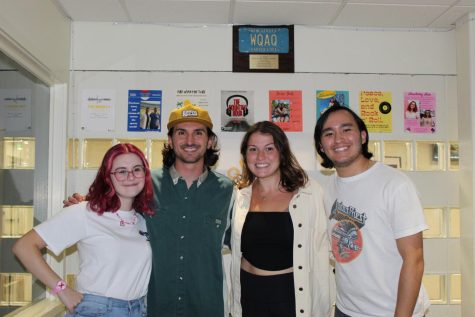 His set consisted of a wide range of material, from his experiences as an athlete and theater kid in high school to his time on "The Circle" (including sharing secrets from the set that weren't seen on the show). What seemed to get the audience laughing the most, though, were his references to Quinnipiac culture, including wacky icebreakers in wackier UC elective courses, living in Ledges and Village with unusual roommates, and participating in groups like Greek life and intramural sports.
He also made sure to involve the crowd in many of his bits, including one about growing up in New Jersey. It was clear that Franklin knows how to connect with his audience, despite this being his first-ever stand-up comedy special.
After the hour-long set, a Q&A session was hosted by Ben Darling, the executive producer of Q30 Television's "Quinnipiac Tonight." Anyone and everyone in the crowd was given the chance to ask John their craziest questions – he encouraged them not to hold back.
When asked about what it was like to pretend to be his mom (the now iconic "mama Carol") on a reality TV show, he explained that family is the most important part of his life and is a part of everything he does, so it felt natural to involve his family in the show. He added that since he knows his mom so well, it was easy to imitate her and work her mannerisms into conversations.
Franklin then delved deeper into what his experience on the Netflix original series was like, including the long, difficult hours. He shared that on the night he was eliminated from the show, he was awake for 24 straight hours and had no idea since the cast members are prohibited from having clocks, phones, or calendars while filming.
Speaking of filming, he shared that the process took roughly one month – one week of quarantine, one week of promotion, and two weeks of playing the game. The producers filmed Franklin and his castmates constantly (yes, even when they were in the shower) and determined when they woke up and when they went to bed, which Franklin said was definitely a difficult adjustment.
He felt prepared for the show since he had lived alone in the past, but he found it hard to assimilate back into normal life once he got back home, doing things like verbalizing every move he made because he was used to doing so on the show. There was no boredom or stir craziness because the entire cast was filming content at all times, even though a huge portion of it didn't make it into the final edit.
When asked about life after "The Circle", the 25-year-old reassured fans of the show that he is still genuinely friends with everyone he was on the show with (fellow cast member Alyssa Ljub was in attendance at the event) and is appreciative of the crazy experience they shared. Being on the show gave him a new perspective on life, and taught him that people who are drastically different can get along; "'Friends' is not a limited term," he told the crowd, "and college is a perfect example of that."
After the Q&A finished, Franklin stayed to chat and take photos with students, who raced to form a line that wrapped around half of Buckman Theater. For wide-eyed first-years and well-seasoned seniors alike, this event was a much-needed break from the chaos that is starting a new school year. If you missed it, be sure to check out Mike Singer's photos that captured all of the laughter in the room!