Top hats and guitars: A review of "4" by Slash featuring Myles Kennedy and The Conspirators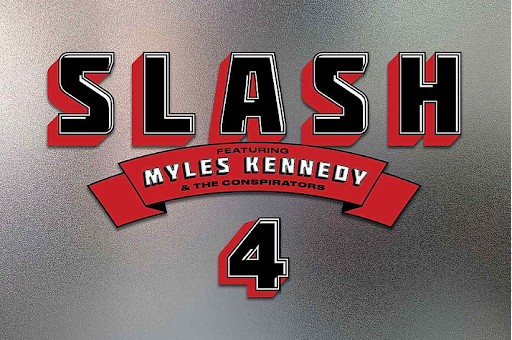 In four years, Slash, Myles Kennedy, Todd Kerns, Brent Fitz and Frank Sidoris hit the studio for a brand new album.
 Teaming up with Gibson Records, the group titled their new album "4" in honor of the fourth record that the band has made together. The entire album run-time is ten songs long and lasts just 15 minutes shy of an hour.
Of course, there are challenges that come with making a record. This record, in particular, was recorded in a pandemic within less than a week and totally live.
"We get to Nashville and set up and record the album basically live, and that was done in five days," said Slash in an interview with Consequence.
On the same day as the release of the record, the band also performed live at Studio 60 in California for fans to watch the songs live. The band played "4" start to finish with an encore of "Driving Rain" from 2018's "Living the Dream," "You're A Lie," and "Anastasia" off of 2012's "Apocalyptic Love," as well as "World On Fire" from 2014's "World On Fire."
 The album starts off with their first of three singles, "The River Is Rising," which is also the same name as their current tour, loud guitars and a heavy beat introduce us to the record. The other two singles include "Fill My World" and "Call Off The Dogs."
 The following track is "Whatever Gets You By" which starts off with a rather groovy beat by Fitz and a mean riff between the threesome of Kerns, Sidoris, and Slash. Before the solo, Kennedy shows off his ever-impressive vocals with a scream that is matched with another classic Slash riff.
The next track, "C'est La Vie" is a very straightforward song but done in Slash style. The song opens with a classic Slash riff but manipulated through a talkbox and a sleek black Flying V guitar. I had been wishing for a while we would get more talkbox on a record. The last song that comes to mind that had a talk box is "Carolina" off of 2012's "Apocalyptic Love."
Immediately following "C'est La Vie" is "The Path Less Followed" which in my opinion has my favorite solo on the record. The solo is a very melodic solo, it's not too flashy, it's not too loud, it's everything that you'd think of when you think of a Slash solo.
 They say that actions speak louder than words and with track number five of the same title, "Actions Speak Louder Than Words," Kennedy and Kerns provide fans with great harmonies while Slash and Sidoris back them up with a gritty riff with a bit of distortion in the final minute of the song. This track is in competition with "April Fools," but that song will be reviewed a bit later.
 Up next, we have "Spirit Love" which is a new riff that fans wouldn't expect on a Slash record. Even though it might not be a typical hard rock riff, it still works on this album. In fact, it works quite well with Todd Kerns chugging away on bass. The eerie riff is met with lyrics like "she's got me speaking in tongues as we dance in the midnight sun." There shouldn't be any doubt in fans' minds at this point that Myles Kennedy is one of the greatest lyricists of the 21st century.
 At this point, we are more than halfway done with the album, fans might be asking "where's the ballad that is on every record?" Well, "Fill My World" is the ballad that answers your question. The main riff reminds me of "The One You Loved Is Gone" off of their 2018 record "Living the Dream." When Kennedy sings and refers to what many might think of as a woman, they will be surprised to learn that it's about his dogs.
 "I was on the road, and my wife, she comes out and visits me, and we oftentimes will leave our dog, Mozart, with friends or with the pet sitter or whatever," said Kennedy in an interview with 102.7 KIIS FM. "This storm rolled in, and all we had were the cameras inside the house just to keep an eye on how he was doing."
 Kennedy goes on to say "It was heartbreaking as the night progressed. The storm was getting really intense, and he's super sensitive to storms, and we always have trees and branches that'll hit the house during those storms, and it really freaks him out. So, he was panicking."
 The second to last song on the album is "April Fools," which as I said earlier, is in competition for my favorite song on the record. The track is loose with the driving beat and a tight groove with an extremely catchy chorus that's belted out by Kennedy with Kerns on background vocals. I would have to say that my favorite part of the entire song is the little breakdown right after the solo where you can hear Fitz hitting the cowbell and the band hasn't fully turned all the way up to drive the rest of the song home.
 Slash featuring Myles Kennedy and The Conspirators are currently on tour across North America. The tour will wrap up on March 29 in Orlando Florida before Slash heads back out on the road with Guns N' Roses on May 25.
To say that I was extremely excited for this record is an understatement. I've been a fan of the band for a long time now and have seen them twice and Guns N' Roses once. I was anticipating another great record from them, and they yet again did not disappoint.
 Overall Grade: 9/10