AC/DC: Power Up Review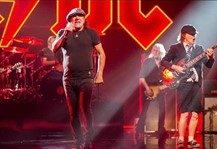 The year 2020 has rocked the world, but not in the way that AC/DC prefers. At least, until now.
Released amidst a turbulent year, AC/DC's surprise comeback record, Power Up, restores some normalcy to the world. It's a strong, crisp and resurgent album that is as good as it is unexpected.
For much of the past three years, it had seemed as though AC/DC was done. The band released Rock or Bust in 2014, but it was their first record without rhythm guitarist and founding member Malcolm Young, who had to step away amidst a battle with dementia. On the ensuing tour, AC/DC rocked, but also just about "bust." Drummer Phil Rudd had legal troubles and missed the tour, longtime singer Brian Johnson was forced off the road with serious hearing damage and a risk of permanent deafness, and bass player Cliff Williams, exhausted after the lengthy tour and worn out without his old bandmates, retired. That only left founding member Angus Young as a full-time member of the band he'd been in since he was 18 years old.
Oddly enough, it was a moment of grieving that brought the band back together – Malcolm Young died in late 2017, and with all his old bandmates reunited at the services, Angus began seriously considering creating a tribute record for his late brother. Three years later, Power Up has been commercially released, and it is better than even the most optimistic of fans could have predicted. It's one of the two best albums AC/DC has released since 1991, and simultaneously serves as a fitting swan song and a rambunctious return to the radio airwaves.
The first step in producing the album, according to the band, involved Angus raiding the archives of recordings that he and Malcolm had saved over the years. After Young had found 12 suitable riffs, he began to craft songs out of them. The late Malcolm's playing is not on the album, but he is credited on every track, having crafted all of the riffs with Angus in past years.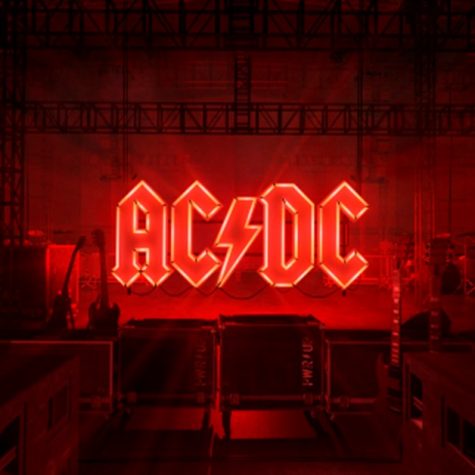 It would have been reasonable for the band to sound out-of-practice or past their prime (no band member is younger than 63, and Johnson is the oldest at 73), but Power Up starts with an absolute blitz in the form of "Realize." AC/DC has long understood how to open a record, going back to "Highway to Hell," "Hells Bells," "Thunderstruck," and "Rock 'N' Roll Train." "Realize" is certainly in that class.
It opens with a triumphant shout from Johnson alongside classic AC/DC power chords. Angus's nephew Stevie Young holds down the rhythm, while Angus adds in tasteful lead licks. The song is a supercharged, fast-paced, attitude romp. It's one of the fastest songs on the record, and builds to a climax where Johnson reflects on "the moment you realize." It sounds like the band just plugged in their instruments and played as loud as they could on this song, and that's not a bad thing.
"Rejection" follows, and is more in the mid-tempo, 21st Century style of songwriting that the band perfected on 2008's Black Ice. The song features strong backing vocals, which is a bit of a surprise for a latter-day AC/DC album. The riff from Young is rock-solid, and Johnson sounds no worse for wear as a septuagenarian. It's the longest song on the album at just 4:07, but AC/DC is best when their songs are compact.
The next track was the album's lead single, "Shot in the Dark," and there couldn't have been a better choice. It's everything AC/DC should be – a bluesy guitar lead, a build to an arena-ready chorus, and a zesty solo, all in barely three minutes. The song was the first thing people had heard from AC/DC in six years, and it absolutely hit the mark. The guitars crunch, the bass thumps, the drums crash, and the vocals soar. This sound is a testament to producer Brendan O'Brien and longtime sound engineer Mike Fraser, who know by now how to make an AC/DC record sound its best.
Listeners get their first curveball with the next track, "Through the Mists of Time," which is truly unlike anything else the band has ever recorded. It features a bubbly riff, a reminiscing set of lyrics, and a deviation from the usual AC/DC formula. The backing vocals are particularly prominent here, but a bit underwhelming. Some of O'Brien's poppier elements show up on this track, which is either a good or bad thing depending on who you ask. For a band where the most common complaint from critics is that "every track sounds the same," I appreciate the creative risk taken on the track, which serves as a tribute to Malcolm Young.
The next track is tried-and-true AC/DC, titled "Kick You When You're Down." Johnson opens the track with his trademark scratchy yet powerful wail, while the Youngs keep it simple with a mid-tempo riff that wouldn't have been out of place on the For Those About to Rock album. The backing vocals are prominent here again, but are better here than the previous track. At first, I thought it was potential filler, but the chorus is actually quite catchy, and it became one of my favorite songs on repeated listens.
"Witch's Spell" closes out the A-Side, and is more modern-era AC/DC that sounds like a leftover from Black Ice in the best way possible. It features a good solo from Young, but in general, the solos on this album are shorter than on others. However, the strong choruses and reliable backbeat keep things moving.
The B-Side opens with "Demon Fire," which is in the running for one of the best songs on the album. It's the fastest song on the record, and features a scaling riff. Johnson switches between low growls and his upper register on this one, and the rhythm section of Williams and Rudd is in lockstep on this track.
If there's filler on the album, it's probably in the next two tracks, "Wild Reputation" and "No Man's Land." They feature bluesy riffs likely from the Ballbreaker or Stiff Upper Lip periods, and while they aren't bad or skippable in any way, they aren't essential to the album like some other tracks are.
Things get back on track with "Systems Down" and "Money Shot." Angus's leads are particularly gritty on the former, and the whole song is a gradual build, starting from the hum of the amp that opens the song to a classic Young solo. Meanwhile, "Money Shot" would fit right in on The Razors Edge with its strong guitar interplay, catchy chorus and wink-wink lyrics.
Finally, if "Code Red" is AC/DC's final song, then it's a fitting goodbye. The riff grooves, Rudd's steady drumming gets your feet tapping, and Johnson's rhymes are flying like on "Back in Black." It's a good closer to a solid album.
AC/DC fans had no reason to ever expect to hear new music from their favorite band again after the trials of the Rock or Bust Tour and the loss of Malcom Young. However, you can never count out Angus Young's ability to lead a rock and roll band. Not only is there new AC/DC music in 2020, but it's some of the band's best work in decades. While the group's future is uncertain, Power Up is one of the best things to come out of 2020 for rock fans.
Grade: 8/10