In Memoriam: Eddie Van Halen
The rock music world lost an icon on Tuesday afternoon, when renowned guitarist and musician Edward Van Halen died at the age of 65 after a lengthy battle with throat cancer.
His son Wolfgang announced the news on social media:
— Wolf Van Halen (@WolfVanHalen) October 6, 2020
Van Halen was the leader of the band that shared his name. Along with his brother Alex on drums, David Lee Roth on vocals and Michael Anthony on bass, the band Van Halen was formed in 1974 and redefined what hard rock meant at a time when disco and punk were popular, and the guitar hero was fading.
Van Halen was known as an inventive player, one who could seamlessly play lead and rhythm parts. His innovative use of techniques like finger tapping, hammer-ons, pull-offs and ample whammy bar usage not only resulted in mind-blowing solos, like the ones heard on "Eruption" and Michael Jackson's "Beat It," but left listeners wondering just how Van Halen was making such unique sounds from a six-string instrument.
Van Halen was born in the Netherlands in 1955, and the family immigrated to America at age seven. The son of a musician in an unfamiliar country, the Van Halen brothers used music as their language. As Van Halen himself put it in 2015, "We came here with approximately $50 and a piano, and we didn't speak the language. Now look where we are. If that's not the American dream, what is?"
Although he was originally trained in classical music, Van Halen admittedly couldn't read music and turned to self-taught rock. His inspirations included Eric Clapton and Jimmy Page, and after four years on the club scene in California, the band was signed to a record deal by Warner Bros. The band's certified-diamond debut album, Van Halen, introduced Van Halen's guitar wizardry to the world with songs like "Ain't Talkin' Bout Love," "Runnin' with the Devil," and an electric cover of The Kinks' "You Really Got Me." It also marked the first appearance of Van Halen's signature guitar, the Frankenstrat, a custom guitar that consisted of both Fender and Gibson pieces.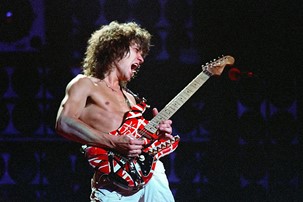 After four more multi-platinum records, Van Halen came out with their biggest hit yet, 1984. This album featured some of Van Halen's signature guitar licks, such as on "Panama" and "Hot for Teacher," while also showcasing his keyboard playing on singles "Jump" and "I'll Wait." After a lengthy tour, the band broke up with original singer Roth at their commercial peak, but quickly found its footing with prominent solo vocalist Sammy Hagar.
All four albums the band recorded with Hagar reached No. 1 on the Billboard charts, and the band's sound continued to mature. There were still riff-rockers like "Get Up" and "Poundcake," but the band also wrote more hook-oriented rock with "Best of Both Worlds," "Runaround," "Top of the World" and "Why Can't This Be Love." Van Halen's keyboard playing also grew more prominent, such as on hits "Dreams," "When It's Love" and the monumental "Right Now" in 1991. Just like with Roth, the band and Hagar split at their respective commercial peak in 1996, only this time, they wouldn't recover.
The band hired Gary Cherone for Van Halen III in 1998, which was a commercial and critical failure. Van Halen's health also began to decline around this time; he had a hip replacement in 1999 and got treatment for tongue cancer in 2000. Van Halen's lifelong addiction with drugs and alcohol continued to worsen, and a 2004 reunion tour with Hagar saw the guitarist in his worst shape, consumed by addiction.
Finally, Van Halen went to rehab in 2007, and emerged sober and ready to hit the road. The band reunited with Roth at long last, and launched three successful tours. They even recorded one last album, 2012's A Different Kind of Truth, which featured Roth on vocals and Van Halen's son Wolfgang on bass guitar.
After the 2015 tour, the band went on hiatus, and speculation began to persist regarding Van Halen's health. It turned out that Van Halen was battling throat cancer, and disappeared from the public eye. After five years fighting the illness, he passed away on Tuesday at Saint John's Health Center in Santa Monica, CA, surrounded by his wife Janie, son Wolfgang, brother Alex and ex-wife Valerie Bertinelli. Bertinelli, who was married to Van Halen from 1981-2005, also shared a touching tribute to her late ex-husband on social media:
— Valerie Bertinelli (@Wolfiesmom) October 6, 2020
Tributes poured in from around the music world, including from his ex-bandmates Roth, Hagar, Anthony and Cherone, as well as from rock musicians Joe Satriani, Jimmy Page, Joe Walsh, Steven Tyler and Joe Perry, Angus Young, Ozzy Osbourne, Nikki Sixx and Tommy Lee, Gene Simmons, Slash, Lenny Kravitz, John Mayer, and countless others.
One of Van Halen's signature characteristics was his boyish smile he would often flash when playing guitar. Through the good times and the bad, Van Halen was always smiling on stage, doing what he loved most. Everyone should love what they do as much as Van Halen loved what he did.
Eddie Van Halen's music will live on forever, but the world is a little less creative today.