Is Yeat's new album better than 'Whole Lotta Red'?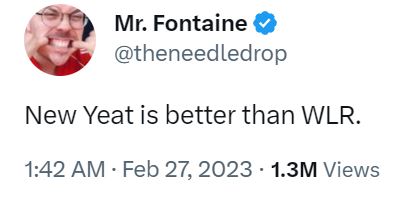 One artist I would like to spotlight is the up-and coming rapper, Yeat.
Noah Oliver Smith, known as Yeat,  is from Irvine, California. Most of his successes launched at the turn of the decade. In 2021, he released his debut album "Up 2 Me" through Interscope Records and Foundation Media. The album peaked at number 58 on the Billboard 200. In 2022, he released his sophomore album 2 Alive and the EP Lyfe. The young rapper garnered the most attention summer of that year with the single, "Rich Minion." When this single was released, this is how I first learned about this artist. It was all over social media such as Tik Tok. It helped promote the movie, "Minions" that came out that summer.
Apart from this, there is more to the young 23-year-old rapper than his "Rich Minion" single.  This past February, he released the album "AfterLyfe." A guest appearance from rapper YoungBoy.
Never Broke Again is featured, alongside the rapper's two other alter egos, Kranky Kranky and  Luh Geeky. I fell in love with this album. The rapper expressed on behalf of this album to not only have, "just regular rap beats. It's a whole different wave". He did a great job encompassing this demand. The album opener, "…No More Talk" immediately draws an experimental flavor to what to expect from the rest of the album. The dubstep rap beats, the producer tag, the pitchy scattered vocals from the rapper, this is what I like to see in a modern trap rap artist because it makes them more unique than others. One of my favorites on the album is the song, "Shumck".  It includes the same dubstep/rage rap beats and pitchy vocals by the rapper, but made it catchier plus added a feature by YoungBoy Never Broke Again.
One of his predecessors to the new album was the EP "Lyfe". I wanted an album that could follow the EP, which I felt was also another stronger record in his discography. However, the comparison to this predecessor to "AfterLyfe" is the same. They both showcase Yeat's unique trap/rage rap vocals and electrifying beats. One of my favorites of Lyfe is "Up off  X," which features a more dynamic rap beat of the rapper and his usual rapping style.
After the release of the new album, internet music critic Anthony Fantano tweeted on Feb.  27,  "New Yeat is Better Than WLR."
New Yeat is better than WLR.

— Mr. Fontaine (@theneedledrop) February 27, 2023
To compare "AfterLyfe" and "Whole Lotta Red" by Playboi Carti, are very similar. Both rappers go for a unique rap style than others in the trap rap genre, and both rappers are not afraid to experiment with their image, music  and style. However, the media responded to Fantano's comment with mixed reviews.
Honestly, I don't agree with his comment. Both albums are different in ways of how each rapper approaches the trap rap genre, how catchy the songs are, and critical reception. I get where Fantano is coming from comparing both rappers because they are both experimental rappers. Still, "Whole Lotta Red" goes for a darker image than "AfterLyfe," along with singles that succeeded in entering the mainstream immediately, defined his career and the album debuted number one on the Billboard Hot 100 its first week. Heavily influenced by 70s punk rock and the modern trap rap wave, songs like "Sky," "ILoveUIHateU" and "Over" were not only some of the catchiest songs on the album, but it was also a new era for Playboi Carti.
Not to say AfterLyfe got a lot of critical reception as well, charting number four on the Billboard 200, but this reception doesn't compare to the praise Whole Lotta Red got. Plus, also, Yeat is an up-and-coming artist, but he has a long way to go before becoming more successful than he is right now.