A record that is truly 'Finer Than Sin'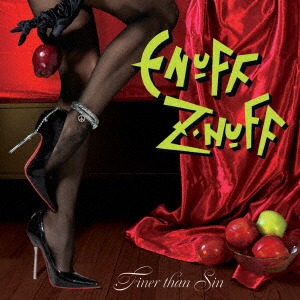 The Illinois rock veteran, Enuff Z'Nuff released record No. 17 on Friday, Nov. 11.
There will never be enough from Enuff Z'Nuff as this is their sixth record that has been released since 2018 and there is no plan on stopping anytime soon.
The 41-minute record contains 10 songs. Those 10 songs contain one cover and two instrumentals.
The record kicks off with "Sound Check" which is 2 minutes and 45 seconds worth of straight jamming between the band. The band includes founder Chip Z'Nuff on bass, Tony Fennell on rhythm guitar, Tory Stoffregan on lead guitar, and Dan Hill on the drums.
The first song to contain singing is track one, "Catastrophe." Released as the first single off the record as well as containing a music video, it's arguably one of my favorite songs off the entire record. With lyrics like "the crack and the cocaine & the LSD. Your lies when you steal all the energy. It's more than a crime it's a catastrophe," listeners that know the band's history can maybe infer that this could be about the band's past drug problems and troubles with former lead singer, Donnie Vie.
When reading the lyrics to "Catastrophe" it gets more and more clear that this is a song written by Z'Nuff to Vie about why Vie left and caused so much commotion. Since I'm a huge fan of the band and know their history, my mind immediately went to Z'Nuff singing to Vie when I read the lyrics to the entire song for the first time.
The third track on the record is called "Steal the Light." It's a typical Enuff Z'Nuff song and it is along the lines of a song that they would release. What I liked most about this song was the solo by Stoffregan. It wasn't flashy and it wasn't a "look at me" moment. He let the song speak to him and he allowed the emotions of the song to dictate which chords were right for this given song. 
The next song, "Lost and out of Control" is in the competition for my favorite song off the entire record. It's upbeat with Hill keeping the beat faster but under control, while Z'Nuff has a killer bassline but an amazing and recognizable voice that anyone could pick out of a crowd. What I really enjoyed about this song was how Stoffregan and Fennell are almost soloing at the same time yet in the final mix of the song, one guitar is louder than the other but without that second guitar wailing in the background, the solo wouldn't be as great as it is.
The three songs of "Intoxicated," "Hurricane," and my favorite out of the three songs, "Trampoline," pass before we are brought to track eight, "Temporarily Disconnected."
What I loved about this song was its upbeat rhythm. It's not a dark song or a heavy song, it dances along the line of a hard rock pop song. I feel like this song could have been released as the second single instead of "Intoxicated." "Temporarily Disconnected" could have easily appeared on an earlier record that the band made, it could have even made it on the debut record, that's how much it digs into the band's roots as a power pop rock song.
After all, is said and done, we are left with the final song with lyrics, "God Save the Queen." Yes, that "God Save the Queen" that made The Sex Pistols oh so popular when it came out in '77. When I first saw that they were doing a Sex Pistols cover, I wasn't really sure what I was going to think of it. A lot of bands do covers of other songs but very few are able to cover the original while also incorporating their own sound into the record. Enuff Z'Nuff was able to do just that. It's a really good cover that they were able to add their own sound to while also being respectful to one of England's greatest punk bands. All in all, they did a pretty good job at this cover.
The record wraps up with "Reprise" which, just like the opening song to the record, is strictly instrumental and is a jam between the band members.
There is a way to execute instrumentals into the song and I don't think adding it as the very last song is the way to do it. The last song on a record should be one of the better songs on the record so fans can say that the album ended on a high note. Now if you're a record collector like me, you want to be able to play a record from front to back and not stop it halfway through, with a song like "Reprise," I just don't feel the need to spin the record all the way through when I know the last song is an instrumental. 
The beginning of "Reprise" sounds like it was cut from the opening instrumental and just thrown onto the back of the album, and it just sounds out of place. I get it's supposed to tie the front to the back, but I think the mark was missed on this one. Some great examples of at least the A side of a record connecting to the B side of a record are in The Eagle's "Hotel California" where they have "Wasted Time" close out the A side and right after, on the B side, they have "Wasted Time (Reprise)." In Enuff Z'Nuff's case, they have 'Sound Check" at the very beginning and then almost 40 minutes go by until "Reprise" where fans are reminded of the beginning but after listening from front to back, you almost forget that the record starts with an instrumental and it just seems awkward.
As always, it's now time for The Singer's Thoughts:
I love Enuff Z'Nuff, they've been around since '89 and not many of that era's bands can say that they record on a yearly basis which I just think is amazing that Enuff Z'Nuff is able to constantly tour and record.

Even though I'm more than okay with having Chip Z'Nuff on lead vocals, I still would like a reunion with Donnie Vie. They created so many great songs during their heyday and for Vie to appear on one song on every other record is not okay. We need and want a reunion. if we do get one, at that point bring back Vikki Foxx on the drums.

It's great to see Enuff Z'Nuff jump on the Skid Row tour as the openers and play some bigger venues. Hopefully, that will give them some more recognition and increase some record sales and maybe get them as the headliner into some bigger venues in the future.
Overall Grade: 6.5/10