"Fall"-ing in Love With Marc E. Bassy and Doublecamp: WQAQ and SPB Present Fall Fest 2022
Nothing quite gets you ready for spooky season like apple cider, corn mazes…and a giant inflatable pumpkin…you can ride? If these things fill your heart with festive autumnal joy, you probably enjoyed Fall Fest 2022, presented by Quinnipiac University's Student Programming Board and WQAQ 98.1 FM.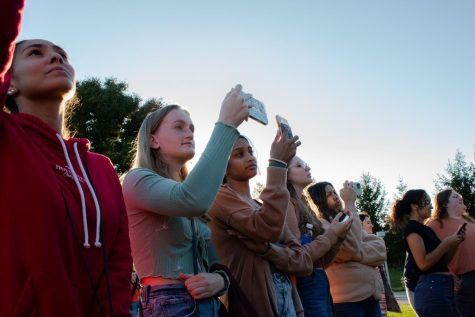 Fall Fest is Quinnipiac University's annual outdoor concert on the Quad in October. The event is much more than a concert to the student body, providing an opportunity to enjoy free food, awaken your inner child with inflatable slides, and bond with friends new and old.
Planning for Fall Fest 2022 began in May of this year, with SPB and WQAQ holding weekly meetings for months to make sure everything was perfect. All of that planning became a reality this weekend.
On Saturday afternoon, WQAQ and SPB volunteers gathered to build the stage and start preparing for the big day. On Sunday morning, both organizations' executive boards were back at it bright and early to start getting things moving on show day.
Once 2 p.m. rolled around, everything was set perfectly in its place. A DJ was playing a typical sweet 16 party playlist (think "Cotton Eyed Joe" but also "Mr. Brightside") which the students in attendance ate right up.
Before the music started, attendees had access to a wide array of activities. Some of Fall Fest's attractions this year included an inflatable corn maze, slide, mechanical pumpkin, a rock climbing wall and a make-your-own sand art station.
Free food and drinks were available, including apple cider and donuts courtesy of Quinnipiac's dining department. There were also three food trucks from three Quinnipiac local favorites: Moon Rocks Gourmet Cookies, Los Mariachis, and Liberty Rock Tavern.
The music portion of the day got started with Doublecamp, a musical duo from Nashville. The members, Joe Neary and Jordan Burmeister, are two best friends who love their team, their fans and making music that means something to them.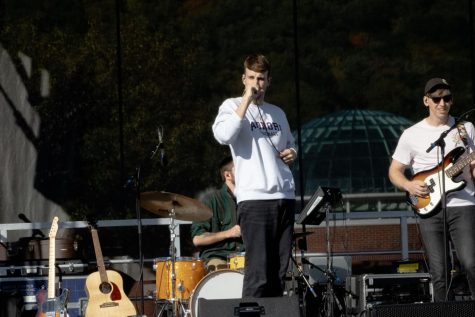 Doublecamp's set was full of energy and good vibes and was definitely the perfect way to kick off the performances. They played original songs, a cover of Snow Patrol's "Chasing Cars," and ended their set by thanking everyone for allowing them to leave campus with a bunch of new friends (those new friends being the crowd who was cheering for them, obviously).
After the set, the band said that their favorite part of Fall Fest was the duality of the crowd watching them, from the students laying on the quad on blankets to the ones standing right up against the barricade, jumping up and down and singing along.
Marc E. Bassy was this year's Fall Fest headliner, taking the stage after Doublecamp. Bassy has a rich songwriting history, penning tunes for artists like Cee Lo Green and French Montana, but is more well-known for his funk-infused pop tracks.
The California native took the stage just before the sun was about to set, and the golden hour vibes were impeccable. He played some of his viral hits like "You & Me" and "Morning," but my favorite part of the set was when he performed "Some Kind of Drug," his collaboration with rapper G-Eazy.
Marc was great at interacting with the crowd, taking time to answer questions from fans and tell stories about his songs' meanings. We learned that he is not a hockey fan (his excuse was being from California, despite the state having multiple NHL teams) but he does like basketball. His basketball fandom would bode well for him if he decided to enroll at Quinnipiac, something he joked about on stage.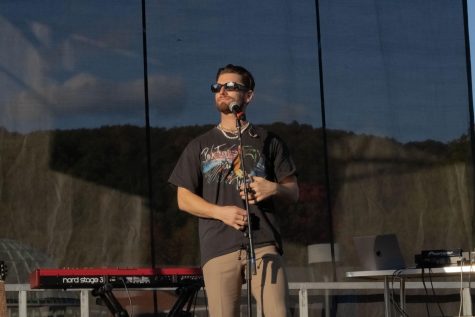 It took a little time for the crowd to warm up to Bassy, illustrated by the number of students who openly cheered when the artist asked if anyone had no idea who he was, but by the time he was closing with "Miss Thang" and the sun was setting in the background, everyone's hands were in the air. Marc said after the performance that he liked performing in a college setting because he had to work to win over the crowd, something he has taken pride in doing since his early days as an artist.
Fall Fest has been considered one of the highlights of the Quinnipiac student experience for years, with many wondering if it would live up to the hype after a year off during the COVID-19 pandemic. After making its grand return in 2021 and outdoing itself in 2022, I think it's safe to say that Fall Fest is more magical now than ever.
Be sure to check out Mike Singer's gallery to see photos from the show!
More coverage on Fall Fest '22!
Check out The Quinnipiac Chronicle's coverage here: