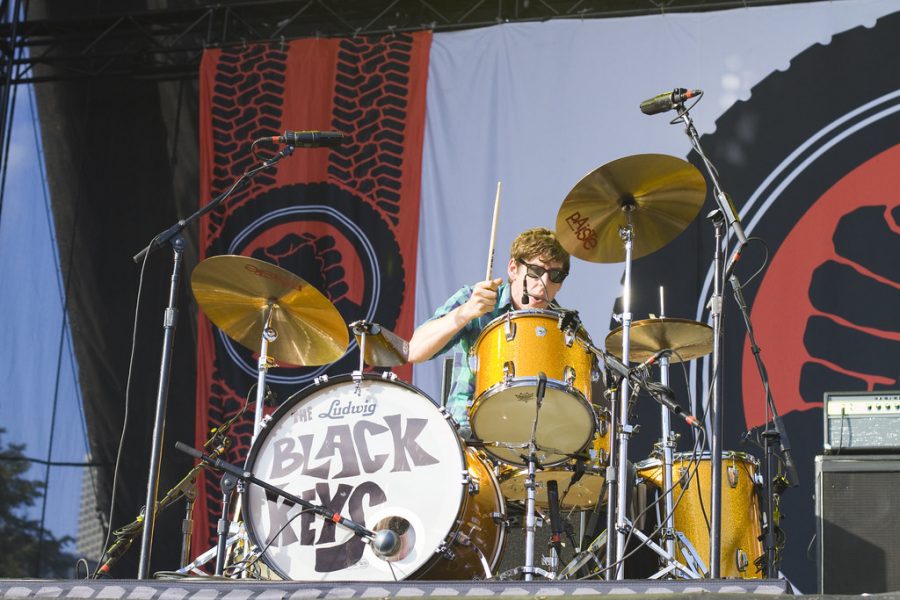 Kate Gardiner 2010
The Black Keys are a rare 21st-century rock success story. Starting out as an Akron, Ohio-based garage-rock duo featuring Dan Auerbach (guitars, vocals) and Patrick Carney (drums), the Black Keys played their own brand of fuzzy, gritty blues-rock on albums such as 2002's The Big Come Up, 2003's Thickfreakness, 2004's Rubber Factory, and 2006's Magic Potion, which earned them a record deal with Nonesuch Records in 2006.
After joining Nonesuch, renowned music producer Brian "Danger Mouse" Burton put his mainstream touch on the old-school Black Keys tone, refining their sound and churning out hit after hit on 2008's Attack and Release, 2010's Brothers and 2011's El Camino, which featured classics like "Gold on the Ceiling," "Lonely Boy," "Tighten Up" and "Howlin' for You." The Black Keys had become global superstars, embarking on expansive tours and hearing their music on every car commercial known to man.
However, things fell apart quickly for the band. 2014's Turn Blue was a creative misstep, an album with some highlights but one generally too focused on keyboards and coated in pop sheen. After another large tour, the Black Keys went on a five-year hiatus, which sparked rumors that the band had broken up. It seemed like the Black Keys was done, as both members kept busy with various side projects that lacked the classic Black Keys sound.
Then, with a single guitar riff dripping of ZZ Top-style blues-rock sludge, the Black Keys were back. The March 2019 release of single "Lo/Hi," the first song in history to simultaneously reach No. 1 on Billboard's Mainstream Rock, Adult Alternative, Rock Airplay and Alternative charts at the same time, had fans hoping a full album was in the band's future. The band quickly confirmed what fans had waited so long for, releasing "Let's Rock" in late June 2019.
Five years after the lukewarm reaction to Turn Blue, the Black Keys marketed "Let's Rock" as a back-to-basics record. In kind, there are no keyboards to be found anywhere on the record, and all the music was written and performed by Auerbach and Carney with no outside contributors. Carney called the record "an ode to electric guitar," and that's just what "Let's Rock" is.
The album opens with "Shine A Little Light," a heavy, in-your-face opener that features an aggressive, AC/DC-style power chord from Auerbach. By the time the chorus kicks in, aided by backing vocalists Leisa Hans and Ashely Wilcoxson, it is clear that the Black Keys are back. An album called "Let's Rock" shouldn't open in any other way, and for my money, it's the best song on the record.
If "Shine A Little Light" somehow didn't get your blood pumping, the pair of singles "Eagle Birds" and "Lo/Hi" certainly will. "Eagle Birds" starts off with Carney's instantly recognizable drum shuffle that is impossible not to tap along to before Auerbach's bluesy guitar kicks in.
If you needed to explain to someone what the Black Keys are, "Eagle Birds" is the song to showcase. From Auerbach's soaring solo to the catchy chorus to Carney's irresistible drumming, this is the Black Keys. The same can be said for "Lo/Hi," the song that put The Black Keys back on the map.
The album takes an interesting twist with the fourth song, "Walk Across The Water." The song opens with a keyboard-like sound that actually comes from Carney's drum machine before Auerbach comes in with a classic Black Keys riff.
Auerbach's vocals, not usually a focus, take precedence on this song. They're heavily layered and particularly sultry, which makes for an unusually sweet song before Auerbach takes centerstage with one of his best solos of the album. The song can be jarring the first time you come across it, but "Walk Across The Water" is one of the gems of the record. It's unlike anything the band has done before, but it's a beautiful, well-constructed song sure to divide fans.
The next song, "Tell Me Lies," is the weakest song on the album. The song just isn't the Black Keys ("tell me la-la-la-la-lies"). The vocal theme is tired, the instruments are a little thin and the vocals lean a little too heavy on the backing singers and not enough on Auerbach's soul, which is missing in some spots on the record. The song isn't outright bad, but nothing is lost from the record by skipping it.
The album gets back on track with the next song, "Every Little Thing." It opens with the hum of an amplifier and an Auerbach solo that's ripped straight from the 1960s. This song works because it combines both the garage-band beginnings of the band and its subsequent growth into a pop act with its retro guitar work and hooky chorus.
The B-side of the album starts with "Get Yourself Together," a catchy, up-tempo stomp. The song features the southern-rock elements of Tom Petty and Sheryl Crow and contains some of Carney's finest drumming.
Next up is "Sit Around And Miss You" (a song accompanied with a hilarious music video), another unexpected surprise. The song swings like a John Mayer campfire jam and is more old-fashioned blues-rock.
The next song, "Go," is quintessential Black Keys. Carney's drumming is sublime, Auerbach's guitar has its patented edge and the chorus is so memorable that it's sure to be a staple on commercials and at concerts for several years. After a couple of tracks that showcased the band's lighter, southern influences, "Go" is a modern classic akin to "Lonely Boy."
The rest of the album finishes strong. "Breaking Down" was the first song Auerbach and Carney wrote after they reunited, and constantly shifts between a warm tone and a driving one. "Under The Gun" sounds like an El Camino outtake in the best way possible, and "Fire Walk With Me" is a fun album closer.
All in all, "Let's Rock" is a solid comeback from the Black Keys. While it falls short of the incredible highs of El Camino and Brothers and the cult-classics Rubber Factory and Magic Potion, it's a better album than Turn Blue was. More importantly, the Black Keys sound like themselves, and they sound like they're having fun.
The band doesn't have any plans after its tour ends in November, but make no mistake, the Black Keys are here to stay. They're set on taking their time and doing things on their own terms, but it'd be surprising if we don't hear more from the Black Keys soon.
GRADE: 7.5/10